MY ROLE
Research
Brainstorming
Wireframing
User Interface Design
Interaction Design
Creating Design Spec
 
TEAM MEMBERS
Minjong Lee
Katie Ramp
Lois Yang
Rig-It
an iPhone app that makes ambulance equipment checks more efficient and enjoyable
OVERVIEW
We designed a mobile application aiming to streamline rig checks that Emergency Medical Technicians (EMTs) need to perform at the start of each shift, while also promoting helpful behavior among EMTs.
Rig checks ensure that the ambulance is stocked with all of the materials and tools it needs and that the ambulance vehicle itself is in good working condition. Failure to perform rig checks properly can serious consequences on patient's lives, so we wanted to create a way to make sure that rig checks are performed properly and that it's a pleasant experience for all.
TARGET AUDIENCE
Our target audience are EMTs who are required to perform a rig check at the start of their shifts. They may be tired or bored or nervous about getting it done correctly, particularly if they are still in training. It is extremely important that all items are filled and equipment is in good condition for every single run.
RESEARCH
RESEARCH AND INTERVIEWS
As newcomers to emergency medical response, we started off with some online research to look at the issues that EMTs face.
We started off broadly and found as much information as we could. We took the most relevant findings from our own research and the personas provided to us to create an affinity diagram.
Upon identifying issues EMTs face, we brainstormed as many ideas as we could. We then took these ideas and plotted them on a feasibility-impact matrix to help us decide what ideas to focus on.
We found that rig checks were annoying to EMTs, but also crucial to their jobs. We then decided to hone in on the process of rig checks and found some interesting tidbits online:
Incomplete rig checks can have serious ramifications. I read a story online about how a patient's life was endangered because the oxygen tank was low when the EMT picked him up. So rig checks are essential, but they are not the most fun task to complete.
We then interviewed an EMT to learn more about the nature of his work and about rig checks. Here are some of our findings:
Checklists are set up to mirror the way compartments are set up
Changing up the order of the rig checks helps EMTs become very comfortable with the vehicle
Rig checks can take up to 1 - 2 hours
Completing the rig check can be a team effort
Ambulance is often parked away from where the supply station is
OPPORTUNITY AREAS IDENTIFIED
From our research, we decided to focus on these areas
Promote helpful behavior among ambulance teams and team members
Make completing the rig check satisfying
Allow EMTs to mark items to get at the supply station later
We wanted to make the usually monotonous task of performing a rig check into a task that was more enjoyable. We wanted to create a positive feedback loop of helpful behavior among ambulance teams and team members to ensure that ambulances are well stocked and maintained.
DESIGN PROCESS
We started off by drawing some of our ideas out on paper and on whiteboards. We then sketched our ideas on post its to create a mock site map. Below these pictures, you will see the initial wireframe sitemap that we created.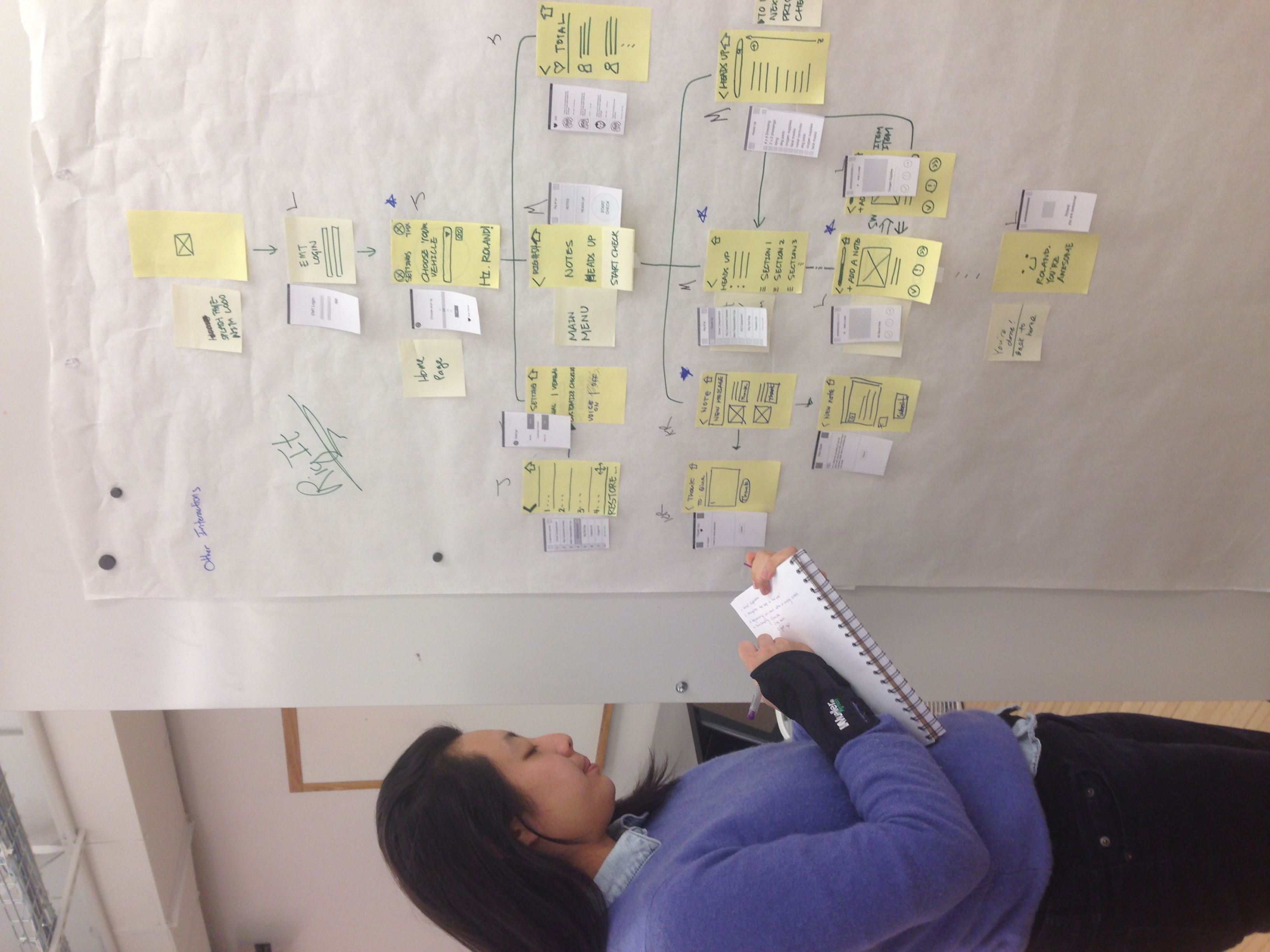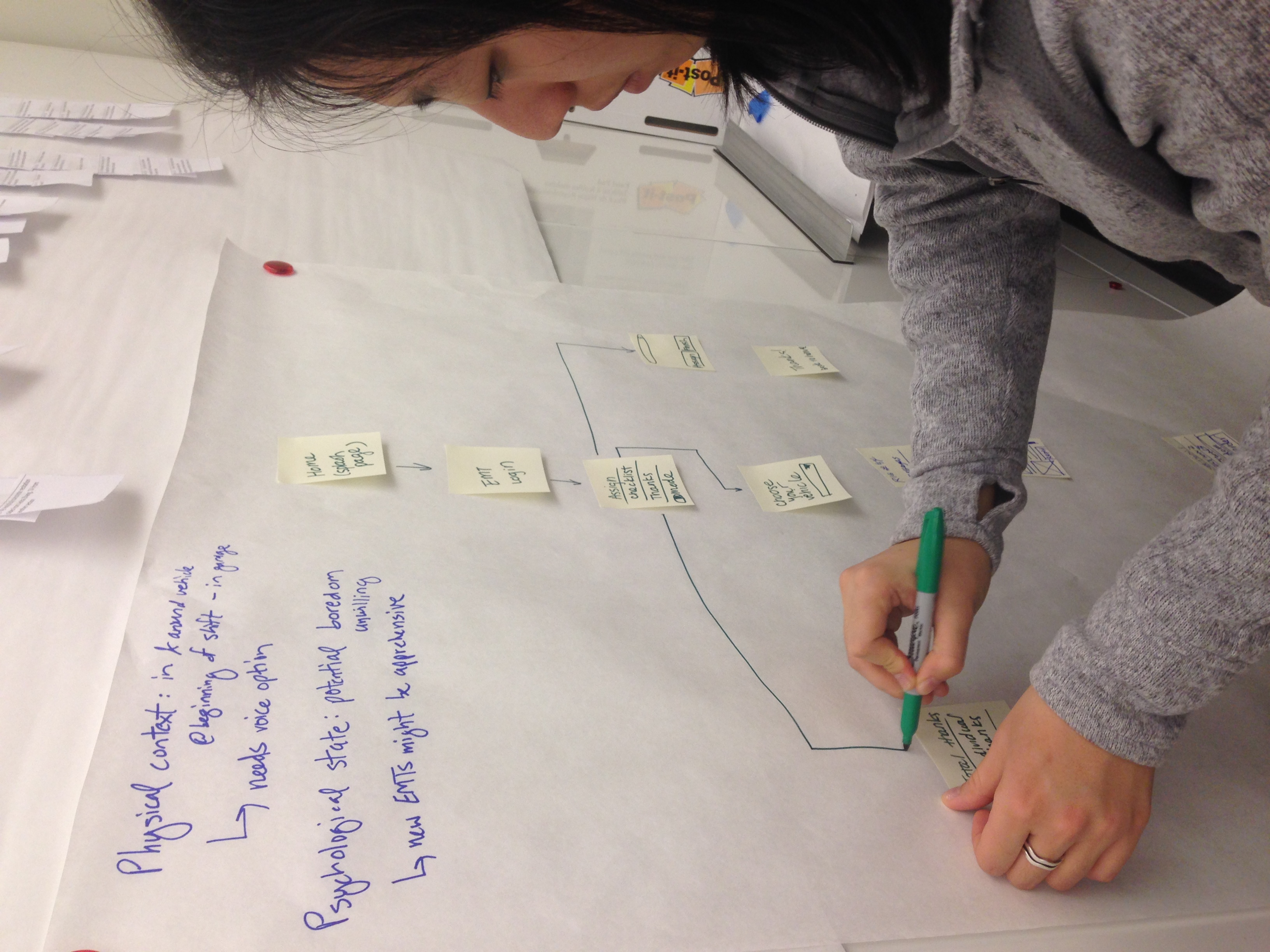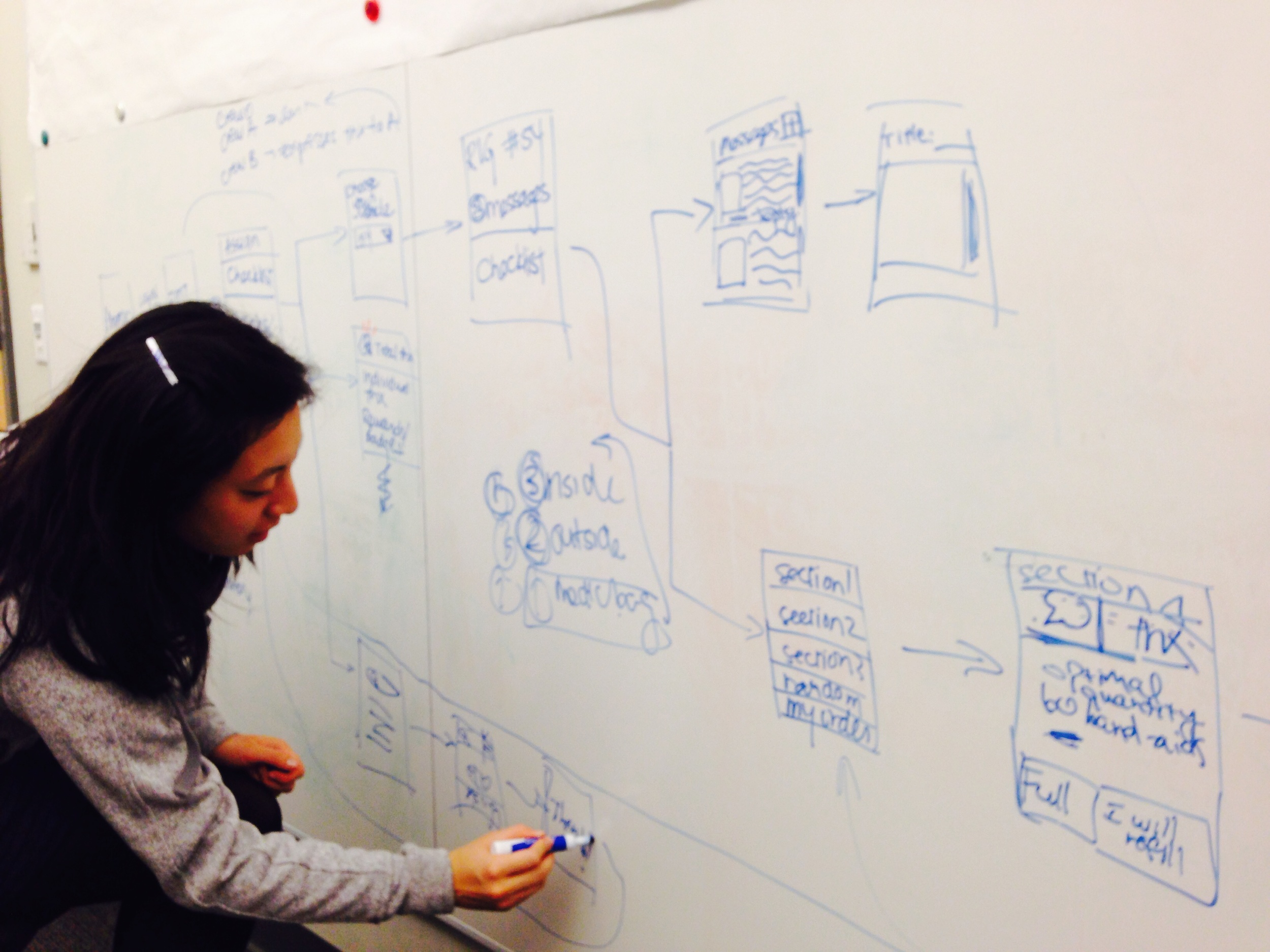 FINAL DESIGN
CHOOSE YOUR RIG
When the EMT first logs into the application, they will choose the ambulance ("rig") that they are working on today. Each rig has data and notes associated with it.
The user can also view any thanks that other EMTs have left for him/her.
Once the user has chosen a rig, the app will bring her to the main menu of the checklist functionality. Here, the user will see the Heads Up Items that the previous crew left for them.
Additionally, the user also has a "Items to Replenish" list, which acts as a "shopping" list for when they are going through the check.
This list is readily available so that they can retrieve it when they go to the stock room to pick up equipment and supplies. When a section has been completed, it will be grayed out, but the user can still click on it.
This is what a typical checklist page looks like. The user will need to enter in the tire pressure in order to activate the check button. The user can also choose to skip to the next item or mark this item as one to replenish, which adds it to the user's Replenish List.
At the top of the screen, the progress bar indicates how much progress has been made in that section.
The user can also go through the checklist with voice commands. The user can activate it by simply clicking on the microphone button, which triggers voice command. The user can check an item by saying "Check," skip by saying "skip," and add to the Items to Replenish list by saying "Add."
A Heads Up item has a faded out red background with the small title, in contrast to the white and gray background for regular items. This difference is meant to differentiate Heads Up items from regular items so that when working through a particular section the EMT will pay more attention to the Heads Up items.
If users think that a heads-up was particularly helpful, they can write a message back to the person who created the heads-up to acknowledge him/her.
On the Thanks Page, the user will be able to see the thank you messages from other EMT crew members. At the top, there is a count of the number of thanks that the user has received.