DiscoverUPMC is a service design solution that rethinks the job application process by allowing more interactivity during the job application process and bringing jobs to applicants instead of applicants searching for jobs.
TEAM MEMBERS
Nirman Bisla
Tammy Lew
Sanjana Baldwa
SKILLS
User Research
Interviewing
Service Blueprint
Service Design
User Testing

OVERVIEW
University of Pittsburgh Medical Center (UPMC) is one of the largest employers in the state of Pennsylvania. It receives over 62,000 applicants a year. We decided to tackle the job application process at UPMC and see how we can improve the overall experience for candidates and recruiters. Currently, most candidates fall into a black hole and never hear back from UPMC. Additionally, UPMC recently adopted its 5 core values, which have been deemed as integral to the organization.
SOLUTION
We designed a three-phase process to rethink the job application process at UPMC. In these three phases,
Phase 1: We ingrain applicants with UPMC values and keep them engaged during the application process through a series of communication touch points, as shown in our updated service blueprint.
Phase 2: The system will assess applicants for their suitability for particular departments.
Phase 3: Applicants will fill out profiles and become matched with job recommendations. With this system in place, candidates will learn more about UPMC values and have increased access to suitable job opportunities. At the same time, this system will allow UPMC HR to create the best possible applicant pool and set the tone for success for future employees at UPMC. This reverses the current state of looking for jobs as the system will suggest suitable jobs to applicants instead of applicants having to search for jobs themselves.
RESEARCH
METHODS
Survey to examine people's experiences with the job application process

Interviews with students and professionals

Interviews with HR employees

User Test four concepts with job applicants for concept validation

User Test concepts again with members of the HR staff to gauge concept reception from the client perspective

Affinity Diagramming to synthesize research findings

User Test final concept
KEY FINDINGS
Applicants reported having an inappropriate amount of feedback

UPMC currently exemplifies having a "black hole" for its lack of feedback during the application process.

Applicant and the company often had mismatched expectations about the job

HR employees also informed us of the importance of the UPMC values, which account for roughly 50 percent of employees' performance reviews
OUR SERVICE SOLUTION
PHASE 1
Prime applicants about UPMC values and see how they fit in with UPMC as an organization. This phase allows candidates to see how they fit with UPMC and helps establish the UPMC brand with its focus on its values.
PHASE 1: DISCOVER UPMC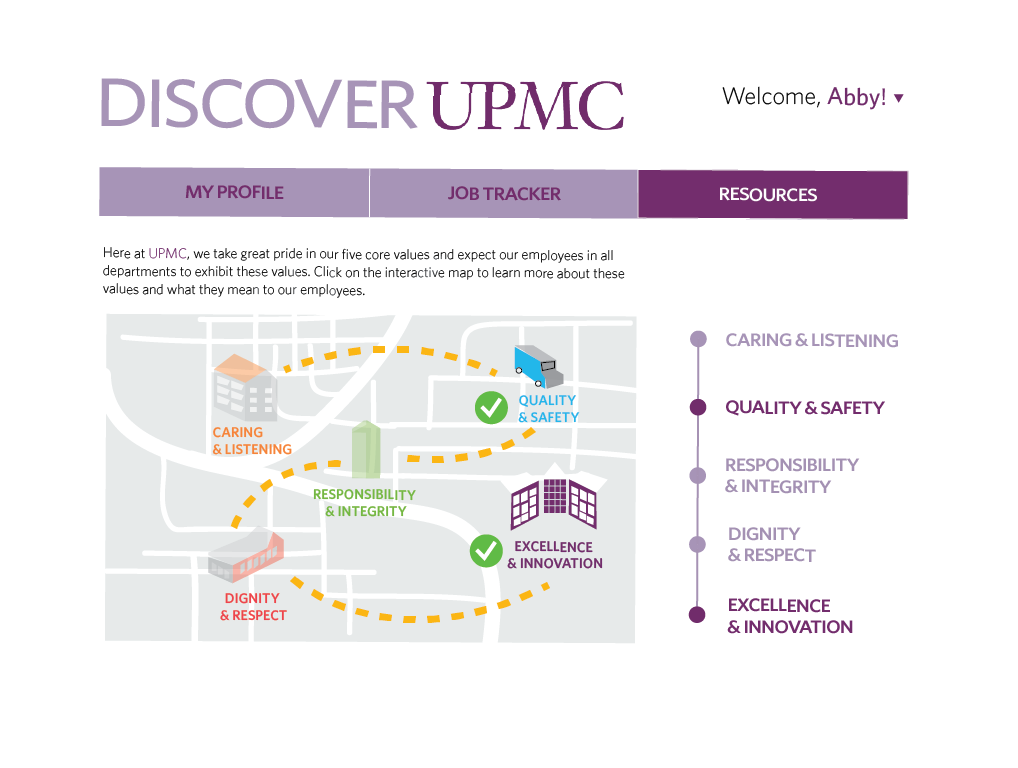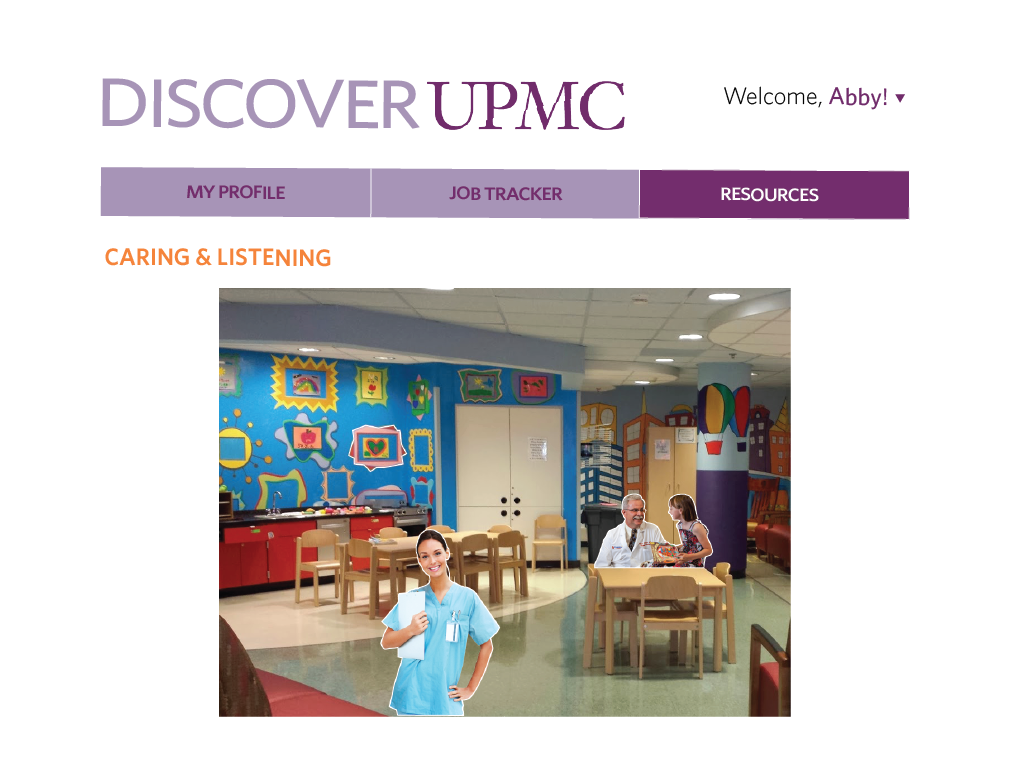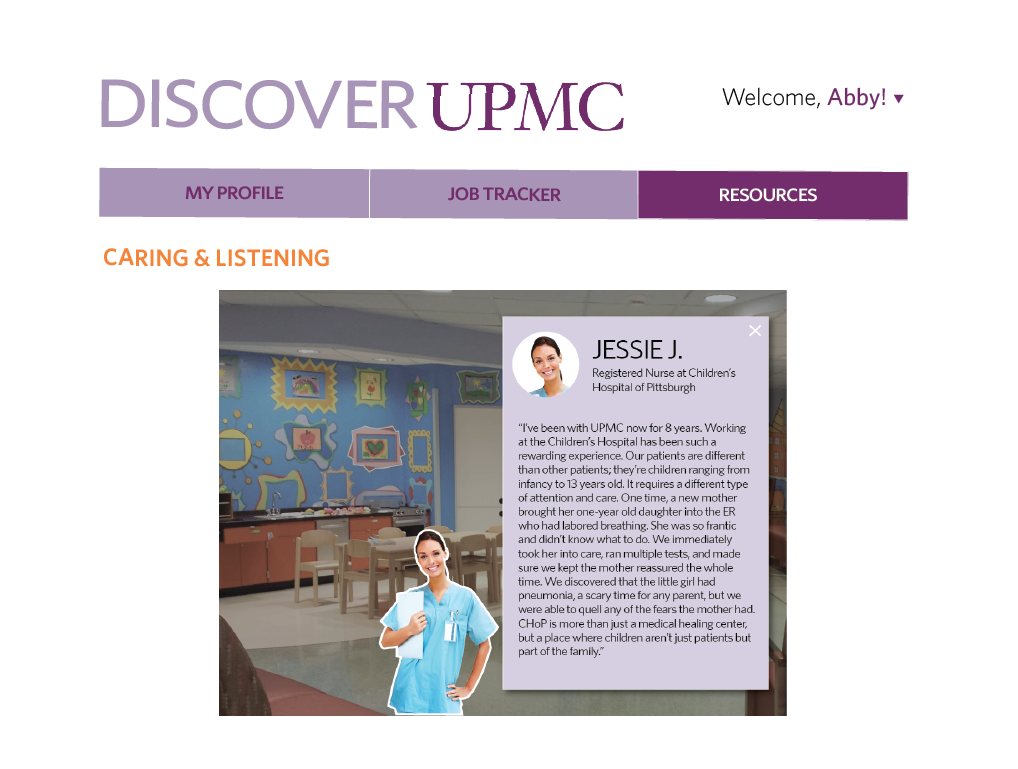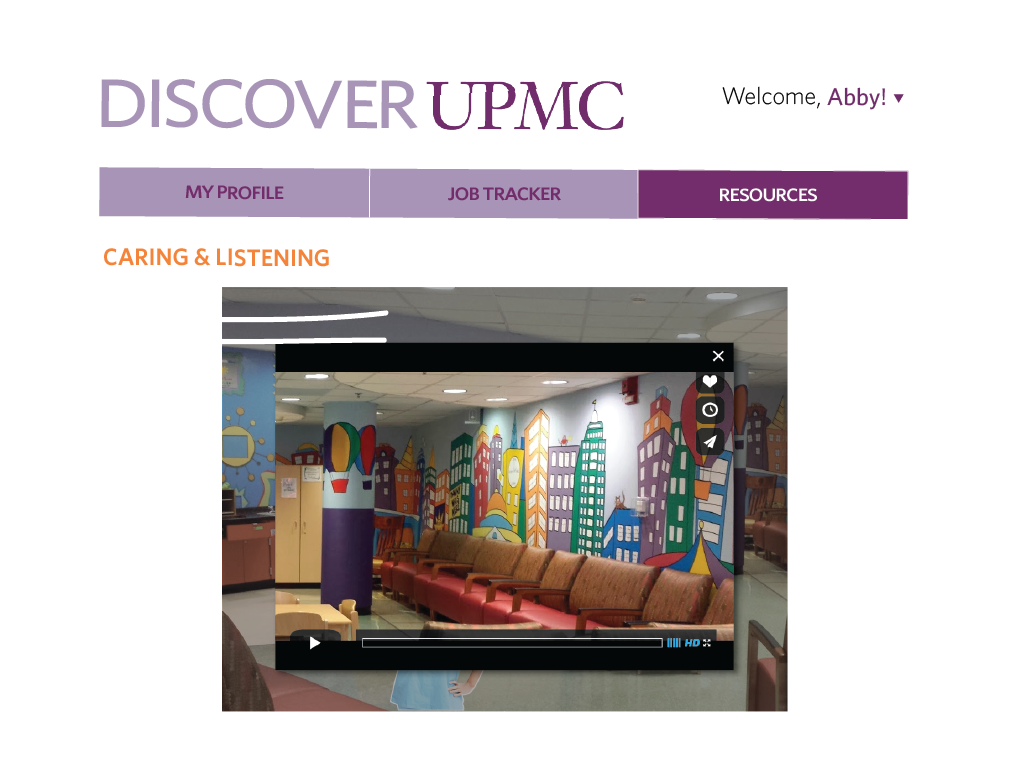 PHASE 2
Assess whether or not an applicant has the appropriate attributes, skills, and qualifications needed for the particular department. This phase allows hiring managers to find better fits earlier on in the hiring process
PHASE 3
Match applicants with recommendations of jobs that they should apply to based on their skills and characteristics—akin to a dating profile, but for jobs. This phase allows applicants to find jobs that are most suited for them and provides feedback on how much they match what the hiring manager is looking for.
VALUE
CANDIDATE BENEFITS
Gains better understanding of UPMC work culture and values

Prepares candidate for potential interviews
RECRUITER BENEFITS
Receives better applications from candidates who understand UPMC values

Creates talking points for potential interviews
LONG-TERM BENEFITS
Creates greater job loyalty where candidates will stay with job long term

Increases overall job satisfaction because applicants know what to expect and find jobs that are better suited for them
NEXT STEPS
For our next steps, we will start exploring Phases 2 and 3. For Phase 2, we can draw on existing questionnaires that exist in specific departments or locations, such as the Children's Hospital of Pittsburgh, to develop a framework that can be used across various departments and cater to their specific needs. For Phase 3, UPMC could consider a collaboration between recruiters, hiring managers, and psychologists to develop a holistic assessment for applicants that can best predict which jobs are most suitable for them.
FINAL POSTER
Final poster with all of our final design and synthesis